THE ABC OF BREAST CARE – AWARENESS IS KEY
The Borstpoli is a breast clinic based on the new concept of a medical specialist whose sole focus is on detecting abnormalities in breast tissue. Women who make an appointment for an ultrasound or a second opinion receive immediate results, a thorough explanation and advice.
The approach is based on the ABC of breast care (Awareness, Breast ultrasound, Cytology). This triple test encompasses learning how to best conduct a self-exam, followed by an ultrasound and, if necessary, a needle biopsy. These are all able to take place during the initial half hour appointment by a specialized doctor. As awareness is considered to be key, clients will head home with a clear explanation of how to compare their left and right breasts simultaneously.
PETER MELKERT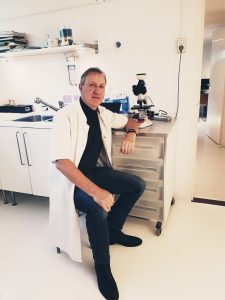 Peter Melkert established his breast cancer practice in the Netherlands more than two decades ago. After completing medical school, Dr. Melkert first ventured into the area of tropical medicine. He spent several years at a hospital in Tanzania, a country he continues to return to annually to educate both local and Dutch general practitioners. His experience with ultrasound dates back to 1995, when he first started giving courses in the technology. Before long, he began focusing on using ultrasound technology for the detection of breast cancer. 
In addition to ultrasound, Dr. Melkert is a staunch proponent of BSE, or breast self examination. Learning to examine your own breasts is the reason he spends much of the one hour initial visit to his practice giving an individual anatomy lesson. "At the present time, I believe there's too much emphasis on age and mammography instead of on pinpointing the screening technology most suitable for the particular anatomy of one's breasts."  
Dr. Melkert considers BSE and ultrasound technology especially relevant for those women with small or average sized breasts and those with dense breast tissue. "This method has  proven to be particularly effective for these women," he notes. 
During the appointment, Dr. Melkert uses the triple test: a thorough explanation of how to examine your own breasts, a physical examination, an ultrasound and, if necessary, a fine needle aspiration for cytology (FNAC). Even in this case clients receive immediate results and advice. The Borstpoli method is what Dr. Melkert refers to as a One Stop Clinic approach.