History of the Diagnostic Breast Clinic, Amstelveen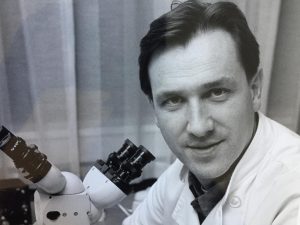 Peter Melkert, MD established his breast cancer practice in the Netherlands more than two decades ago.
After completing medical school in 1981, he received training in pathology at the VU University Hospital for six months, followed by cytopathology training at the Dutch Cancer Institute AVL. He also spent two years of surgery and OB/GYN training in Apeldoorn and Herenveen, followed by a three year stint as a doctor in Tanzania after completing tropical medical training in Amsterdam.
Melkert first ventured into the area of tropical medicine with a focus on fine needle aspiration cytology (FNAC), which at the time was a necessity. "There just wasn't a good pathology laboratory nearby," he explains. FNAC proved to be very useful for commonplace tropical illnesses such as Burkitt Lymfoma in children, Kaposi Sarcoma in adults and TB lymphadenopathy. His first publication, "Cytopathology for the Tropical Doctor," was published in Tropical Doctor in the 1980s. In other publications, such as those on Burkitt Lymfoma and tropical infectious febrile disease like malaria and tick borne relapsing fever (TBRF), his focus was on high risk patients. Melkert spent several years at a hospital in Tanzania, a country he continues to return to annually to educate both local and Dutch general practitioners. After 5 years of training at the VU University Hospital in Amsterdam he became a pathologist in 1993. Since 2000 he has organized and given courses in ultrasonography and microscopy.
His experience in ultrasound dates back to 1995, when he first followed training at the International Breast Ultrasound School (IBUS), with seminars in Austria, Germany (Professor Madjar, a gynaecologist) and in Italy (Professor Durante, a surgeon). In 1996, Melkert started using ultrasound technology for the detection of breast cancer in combination with ultrasound-guided cytology using quick stains. The importance of a cost-effective one-hour diagnosis is what he learned in Africa.
The following year, in 1997, Melkert established the first Breast Center in Amsterdam and later moved his practice to nearby Amstelveen in 2006. Initially, he was the only doctor. His wife Martie was, and continues to be, his assistant. Later, in 2010, he recruited his friend Wim van Bodegom, an experienced GP and ultrasonographer. He convinced him to spend one half day a week doing breast checks using the same approach and discussing the results with Melkert. Van Bodegom is now continuing to do breast checks with ultrasound and offering BSE teaching to individual women in Utrecht and Brabant, a province in the south of Holland.
In addition to ultrasound, Melkert is a staunch proponent of BSE, or breast self examination. Learning to examine one's own breasts is the reason he spends much of the one hour initial visit to his practice giving an individual anatomy lesson. "At the present time, I believe there's too much emphasis on an older age group and mammography instead of on pinpointing the screening technology most suitable for the particular anatomy of the breasts of younger women for earlier detection."
Melkert considers BSE and ultrasound technology especially relevant for young women aged 20-50 and those women with small or average sized breasts with dense breast tissue. "This method has proven to be particularly effective for these women," he notes.
During the appointment, Melkert uses the triple test: a thorough explanation of how to examine your own breasts, a physical examination, an ultrasound and, if necessary, immediate microscopy after fine needle aspiration for cytology (FNAC). Even in this case clients receive immediate results and advice. The Borstpoli method is what Dr. Melkert refers to as a One Stop Clinic Approach: A rapid one-hour, cost-effective diagnosis. Noteworthy for international travelers is the convenient location of the clinic – it's located 12 kilometers, or just a 12 minute drive, from Schiphol Airport.